SINCE 1995 WE HAVE BEEN DESIGNING FACTORIES, INDUSTRIAL INSTALLATIONS AND PROCESSING LINES, SUCH AS CAR PAINT SHOPS, WITH THE USE OF 3D BIM TECHNOLOGY (BUILDING INFORMATION MODELLING).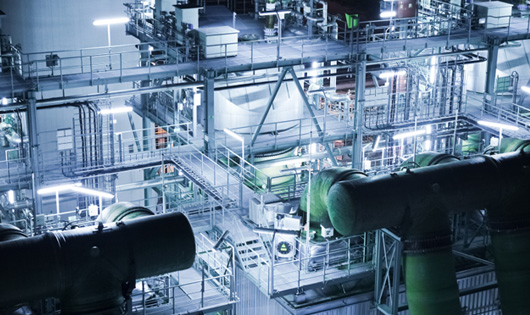 Design of industrial steel structures is certainly one of our key strengths, starting from concept generation and static analysis, to development of highly detailed design documentation, along with materials profiles and assembly drawings.
DESIGN WITH TEKLA AND DLUBAL
Our work methodology and a multi-stage quality control ensure the highest quality and reliability of designed structures. Projects are created using 3D modelling software Dlubal RFEM / RSTAB in the analyse phase and Tekla Structures Steel Detailing in the workshop documentation phase. We design according to Eurocode 3 standards or DIN 18800 and DASt guidelines.
More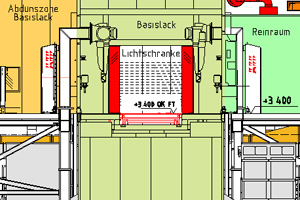 Comprehensive design of spray painting systems and KTL is our flagship activity. For each project we determine the technological fundamentals of the process, make complete 3D models, provide all turnover documentation, manage component suppliers, oversee the assembly phase and supervise the construction process. Years of experience in this field, including our involvement in the creation of a modern paint plant for the new BMW i3 electric car in Leipzig, debuting in world markets, as well as many other projects for well-known automotive brands, such as Audi, VW, Daimler and SAAB.  This has allowed us to obtain invaluable experience and expertise. Therefore, we are able to undertake the most demanding tasks and guarantee the highest quality and quick turnaround.
Our designs are made in accordance with European standards and individual client needs. The 3D and 2D documentation that we provide enables the effective management and easy modernization of any building at a later stage (through the use of BIM technology). We supervise the planning process and assist in solving performance problems during the entire editing session.
More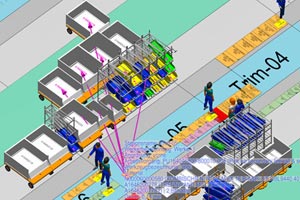 In-house logistics in modern factories is no longer considered a necessary cost of business operation. It has become an important tool for performance management, especially in large factories. Storage of raw materials, transport of components, depots, assembly lines, products queuing, loading and export – these are all key factors impacting cost and time of production. Thanks to several years of experience and cooperation with German experts from the automotive industry, we are highly capable of delivering reliable services in the field of conceptual design for all types of conveyors systems as well as to provide analysis and modernisation of existing production lines.
Our process enables the shortening of the production cycle, reducing storage space and the optimization of queuing systems for semi-finished products between workstations. We use advanced tools allowing 3D visualisation of logistic processes in space and time. We are able to perform simulations of the transport processes and verify the functionality of the concept to detect possible errors and further optimise the entire logistics process.
More
INDUSTRIAL SYSTEMS DESIGN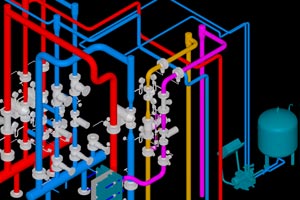 Experience in designing hydraulic installations and ventilation plants for the world's biggest car companies, such as Audi, DAIMLER, VW, BMW, TATA or SAAB has familiarized us with their norms and standards as well as potential problems which may appear when designing with the use of innovative technologies. An important factor influencing the profitability of each plant is its energy consumption, which in turn largely depends on the optimization of technological processes, including the quality of ventilation projects. The systems we design fully meet modern objectives of BIM technology design.
3D OBJECT MODELLING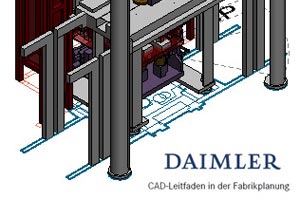 We specialize in 3D design with the use of MicroStation V8i software from Bentley, thus creation of three-dimensional models based on the 2D documentation or laser scans is a strength of ours. When needed, we can also simplify complex models created in other CAD programs (CATIA, Pro / Engineer). We also conduct feasibility and collisions analysis of designed installations. We are familiar with design standards of the biggest brands from the automotive industry, including Daimler, Audi, VW and BMW.
—————-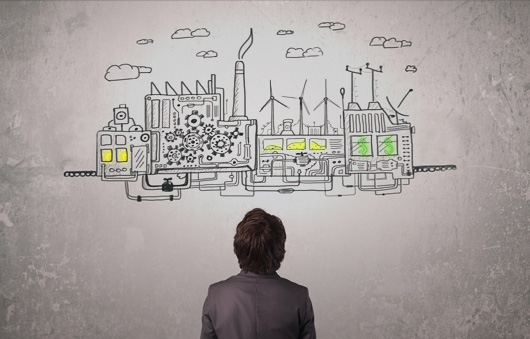 FUTURE FACTORY DELIVERED – we deliver factories of the future. Our definition of "delivering the factory of the future" is broadly defined as the design and supervision of project from concept to implementation. Our work with future factories begins with a concept and modelling information about buildings and installations. In this process we create a digital record that reflects the physical and functional properties required. Within these operations we deliver extreme precision, and throughout the entire design process, supervision and construction phases, we use the Just-in-time technique, with the aim of always giving a rapid response to emerging issues and changes. We use modern tools including Bentley Systems Inc., thanks to which we are able to significantly shorten the design period, while maintaining great flexibility to implement changes and thanks to automated clash detection, we successfully minimize and neutralize the risk of construction problems.
Our tag line Factories of the Future Delivered also implies the second domain of our operations. We not only deliver factories of the future, but also deliver "the future" to already existing plants. In this field we handle optimisation of the in-house logistics and effectively apply Lean Manufacturing concepts. It enables us to significantly shorten the production cycle, reduce storage space and enhance a queuing system of semi-finished products between workstations. Another way of "introducing the future" to existing factories is their digitalization. Based on 2D documentation provided by a client (laser scans, assembly and technical drawings of machine parts and technical documentation), we are able to make complete, highly detailed 3D models, which can then be used in the future for modernisation or visualisation of the plant's interior.