INTERNAL LOGISTICS DESIGN
WE KNOW FROM OUR EXPERIENCE THAT A PROPERLY DESIGNED INTERNAL TRANSPORT SYSTEM WITHIN A PLANT IS CRUCIAL IN TERMS OF PRODUCTION OPTIMISATION.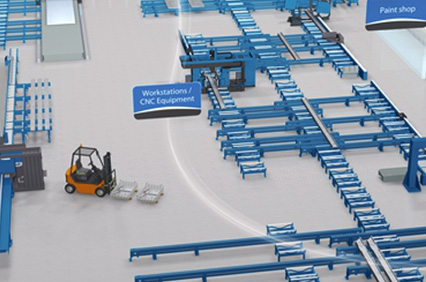 For years our developers have been working with MicroStation software from Bentley as well as specialised modules of TRICAD MS from Venturis. Moreover, on customers request we able to make project documentation with the use of Autodesk tools.
Our services include:
- conceptual design of all construction types of conveyors;
- inventory, analysis and modernisation of existing conveyors, based on client's documentation.
SIMULATION AND VISUALISATION OF PRODUCTION PROCESSES
Due to rising costs, demands and the desire to shorten the production cycle when designing industrial facilities, it is advised to perform a simulation of the process, and its visualisation in the next step. 
Simulations of production processes bring many benefits, among others:
functionality of established concepts checked in practise;
simplification of the system components in the planning stage;
early detection of system throughout problems;
detection of dynamic effects using 3D animation.
We work with German experts in the field of production processes design, IPO.Plan GMBH. At the stage of concept and then project generation, we use software IPO.log and V3 MALAGA, recommended by major automotive companies in Germany, including Daimler, BMW, VW.
We provide the following services:
development of logistics within the plant;
simulation of the material flow;
visualisation of production process.
When conducting optimisation of conveyors, our work experience with large, modern projects lets us successfully apply concepts of lean management. Implementation of these concepts allows our company to provide the end customer with the expected value at the lowest possible cost point and with the minimum amount of resources involved.